Announcement of our Official Open Day - Sleep Apnoea Awareness + Support Event
Friday, 18 August 2017 | Kath Hope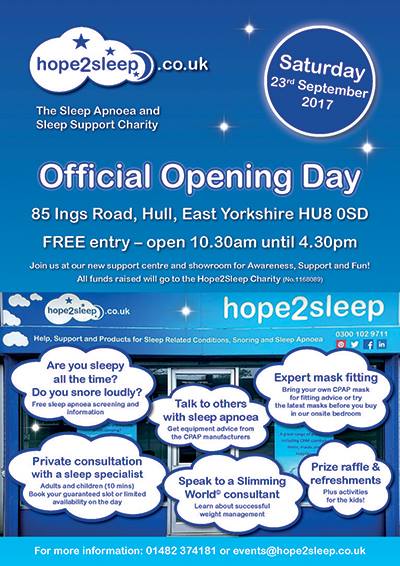 We warmly welcome you to our Official Open Day of what we believe is the UK's first high street Sleep Apnoea & Sleep Disordered Breathing Support Centre and Shop, where people can come for advice, support and purchase products to help them sleep more safely and comfortably.
We are honoured that the Lord Mayor of Hull will be conducting our Official Opening Ceremony in our new premises at 85 Ings Road, Hull, East Yorkshire, HU8 0SD. Our Open Day, on Saturday, 23rd September 2017, will commence at 10.30 am until 4.30 pm. There is even an entrance to Hull's famous and beautiful East Park just 20 footsteps away to take the children or dogs for a stroll.
We are busy with the preparations and this announcement will be amended as our plans are put in place, but will comprise of the following:-
Celebrating the Official Opening of our new premises conducted by the Lord Mayor of Hull - the base from where we will be stepping up the delivery of powerful campaigns to raise awareness of Sleep Apnoea, and continuing our free support to those suspecting a diagnosis and those already diagnosed, and on CPAP or other forms of therapy.

10 minute free consultation with Wendy, our Chairman and Adult Sleep and Ventilation Specialist Nurse. It is advisable to pre-book these slots as we envisage high demand.

10 minute free mask fitting on our in-house bed (you can bring your own mask or try the range we have for sale, and CPAP machines will be there to check masks at the correct pressure). There won't be time to have a nap on the bed though

Advice from Vicki Dawson, our Paediatric Sleep Practitioner, who also founded the Children's Sleep Charity, to discuss general sleep problems in their children, which naturally affect the whole family.

CPAP Comfort Advice and purchase products on the day.

CPAP Manufacturers on hand for advice.

Slimming World Consultant to advise on healthy eating, which can improve Sleep Apnoea and sometimes even cure it!

Refreshments, Raffle, Activities for the Children
For any enquiries or to book a slot with our Adult Sleep Specialist Nurse, please call our local office on 01482 374181 or email events@hope2sleep.co.uk
We'd be most grateful if you are hoping to come to our Event if you could please send us a quick email to say 'Yes' or 'Maybe' as we would hate to run out of refreshments if demand is higher than we envisage. The email address for this is events@hope2sleep.co.uk
We look forward to seeing you on the day
Thanks to the Hull Daily Mail for promoting our event, and already we're getting enquiries from people suspecting they may have the common condition of Sleep Apnoea, along with diagnosed patients requiring our free support.