Thursday, 16 February 2017 | Kath Hope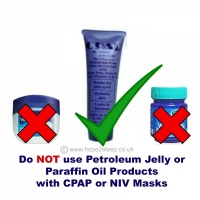 I have written before warning people not to use products like Vaseline or Vicks inside the nostrils, but still we as a charity are hearing this is being recommended by some doctors and nurses. Whilst it is rare, this can lead to lipoid pneumonia and is not worth the risk!
Apart from the health risks, products containing petroleum jelly and other substances can also damage the soft parts of the masks, causing leaks and costly replacements.