Raffle for Sleep Awareness Month
17 March 2022 | Kath Hope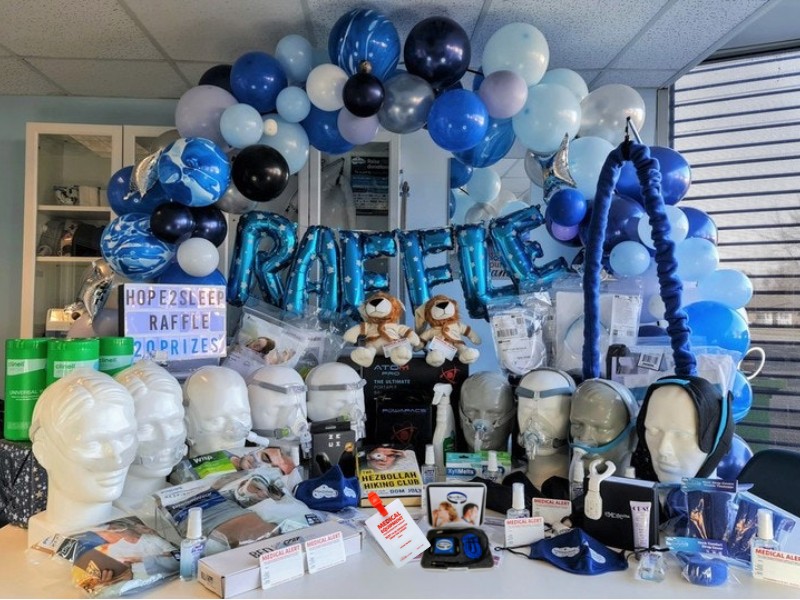 Sleep Awareness Month ends on a high with 20 lucky CPAP, Non-invasive Ventilator Patients and Snorers winning prizes totalling over £2,500, kindly donated by several manufacturers. The raffle will be drawn on Monday, 4th April and winners announced shortly after.
We are very grateful to some of the manufacturers who have generously contributed prizes for the raffle, such as:-
Powapacs for the Atom Battery which powers CPAP and non-invasive ventilators

Morgan IAT for the new Zeus under-the-chin electrical stimulator for snoring (and maybe in the future, sleep apnoea)

Signifier Medical for the eXciteOSA daytime therapy for snoring and mild sleep apnoea

Advanced Brain Monitoring for the Night Shift sleep positioning trainer device

Dom Joly's (our patron) signed book 'The Hezbollah Hiking Club: A short walk across the Lebanon'

Fisher & Paykel Healthcare - Evora, Brevida and Vitera CPAP Masks

Lowenstein Medical for JoyceOne one-size-fits-most CPAP Masks and cuddly lions

Knightsbridge Sleep Solutions for 2 x Dual Band Vertical Lift Chinstraps

CPAP Masks

CPAP Hose Lifts

CPAP Hose Covers

and more......
...AND THE WINNERS ARE.....
| | |
| --- | --- |
| Sharon Gunn | Atom Pro Battery |
| Gareth Glover | Night Shift Sleep Positioner |
| Irene Alexander | eXcite OSA Daytime Therapy |
| Alan Salter | Zeus anti-snore Electrical Stimulator |
| Trevor Entwistle | JoyceOne Nasal Mask |
| Linda Daniels | JoyceOne Full Face Mask |
| Frances Gilmore | Evora 'CapFit' Nasal Mask |
| Catherine Rodgers | Brevida Nasal Pillows Mask |
| Nathan Silver | Vitera Full Face Mask |
| Helen O'Connell | DreamWear Full Face Mask |
| Peter Hudson-Gotham | DreamWear Full Face Mask |
| Donna Jones | DreamWear Nasal Mask |
| John Littlewood | Wisp Nasal Mask |
| Phil Dallinger | Dual Band Vertical Lift Chinstrap |
| Bob Preston | Dual Band Vertical Lift Chinstrap |
| John Bunyan | Signed Book Dom Doly 'The Hezbollah Hiking Club: a short walk across the Lebanon' |
| Donna Jones | Travel Set - CPAP Hose Lift, CPAP Bedside Holder and CPAP Luggage Tag |
| Harry Cox | CPAP Hose Lift, CPAP Moisture Therapy Cream and XyliMelts for dry mouth |
| Ann Dallinger | CPAP Hose Lift, CPAP Moisture Therapy Cream and XyliMelts for dry mouth |
| Norma Yeomans | Comfort Set of CPAP Hose Cover, Neck/Cheeks Strap Covers and 2 pairs Strap Covers |
Thanks to all who supported our raffle and the manufacturers who donated the prizes which raised

£1,344

(less costs to the raffle hoster)