Monday, 10 December 2018 | Kath Hope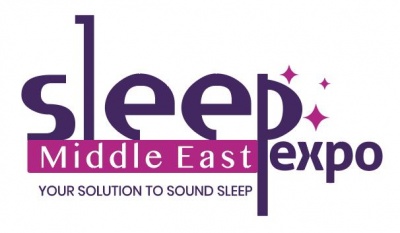 News of a Middle East Sleep Expo in Dubai, and it's always good to hear of events around the world at raising awareness of sleep disorders.
Friday, 14 September 2018 | Kath Hope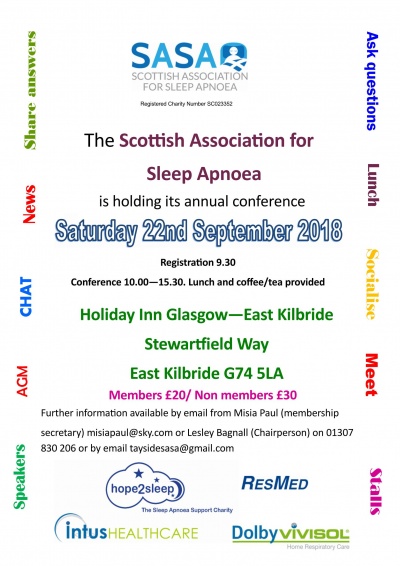 We're looking forward to our annual trip to the Scottish Association for Sleep Apnoea (SASA) in East Kilbride. The event is always a great success and we look forward to contributing to the day, and of course meeting old friends and new.
Friday, 17 August 2018 | Kath Hope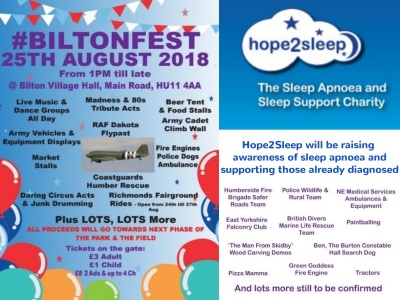 Looking forward to our next event at the #BiltonFest, raising awareness of sleep apnoea and supporting existing sufferers. There's such a great itinerary too, including live bands to chill out and listen to when our work is done.
Monday, 6 August 2018 | Kath Hope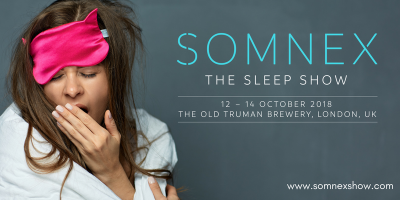 Somnex have kindly given us a 20% discount code to share for the first ever Sleep Show dedicated to sleep health. We'll be attending, along with our specialist sleep nurse and do look forward to meeting you.
Sunday, 5 August 2018 | Kath Hope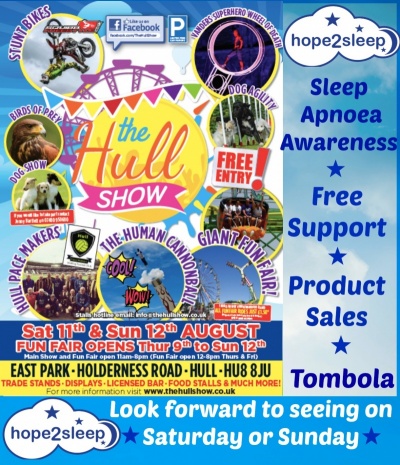 We will be attending the Hull Show this year on Saturday 11th and Sunday 12th August. This is a fun event for all the family (and the dogs as there is a dog show), and we'll be there to raise awareness of Sleep Apnoea to all those weary people unaware they are undiagnosed with this.
We will also be offering face-to-fact support to people already diagnosed and will have a selection of our products for sale at the event.
Come and join us and have a go on our tombola too.
Hull Show is held at the beautiful East Park in Hull, and free entry is via the main gates on Holderness Road, HU8 8JU Gates open at 11am on both days.
Friday, 18 August 2017 | Kath Hope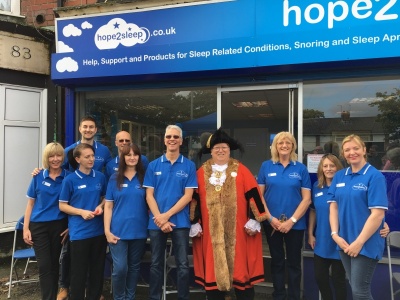 ***UPDATE*** After our Open Day and what a busy and successful day it was! Thanks to everyone who supported us.
News of our Official Open Day, celebrating our new premises, raising awareness of sleep apnoea and support for those diagnosed. Everyone is welcome to this free event.
Wednesday, 6 July 2016 | Kath Hope

July 2016 is an exciting month for us, as Hope2Sleep has received the good news that we have been granted Official Charity Status, and we're sure you'll be celebrating with us, and willing to help us continue to raise awareness of the common, yet vastly underdiagnosed condition, Sleep Apnoea and Sleep Disordered Breathing! So many people are suffering from this - yet it's one of the few medical conditions out there that doesn't warrant taking medication!