Hull Show - Support and Awareness Event
5 August 2018 | Kath Hope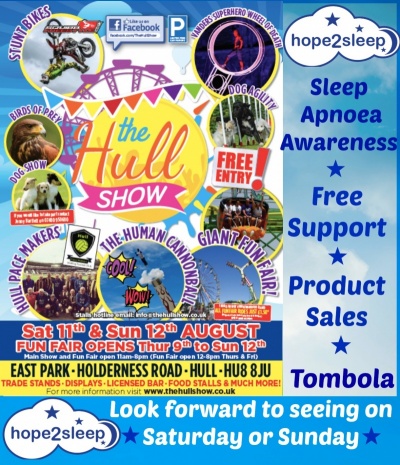 We will also be offering face-to-face support to people already diagnosed and will have a selection of our products for sale at the event.
Come and join us and have a go on our tombola too.
Hull Show is held at the beautiful East Park in Hull, and free entry is via the main gates on Holderness Road, HU8 8JU Gates open at 11am on both days.
Pictures will follow after the event.......
UPDATE
What a marvellous 2 days it was meeting so many people who didn't realise it was the symptoms of undiagnosed sleep apnoea there were suffering from. Lots of GP appointments will be booked to get referred for testing. It was wonderful to also see so many people already diagnosed and we were able to give free support and advice to many of them.