Friday, 7 October 2016 | Kath Hope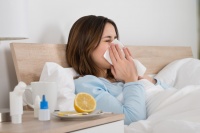 This particular question comes up such a lot in our support groups...."should I use my CPAP or Ventilator when I have a cold?" The answer is almost always a big "YES." During a cold or flu virus our airways are even more compromised, plus the fact people are probably taking pain and cold remedies which cause drowsiness. Therefore, breathing and sleep apnoea will be worse so we need all the help we can get. Added to this, unrested sleep and low oxygen levels will delay the healing progress. However, there's no doubt about it that wearing a mask is more challenging at times like this and it's even more important to keep up a good cleaning regime of the mask and tube.
Wednesday, 6 July 2016 | Kath Hope

July 2016 is an exciting month for us, as Hope2Sleep has received the good news that we have been granted Official Charity Status, and we're sure you'll be celebrating with us, and willing to help us continue to raise awareness of the common, yet vastly underdiagnosed condition, Sleep Apnoea and Sleep Disordered Breathing! So many people are suffering from this - yet it's one of the few medical conditions out there that doesn't warrant taking medication!
Tuesday, 5 July 2016 | Kath Hope